A few years ago Jason and I were living in his mom's house and we started doing some small renovation projects like updating the bathrooms and putting in tile floors etc. because at the time we anticipated purchasing the house from her. Fast forward to several years later when the market took a dump and suddenly we could afford a lot more house for a lot less money. Bonus! So we ended up purchasing our own house, but what we discovered in our renovations and projects at his mom's house was that we really like doing renovations and projects. Well...that's mostly true. We like them for a while and then get burned out by the end of a project and decide not to do any others for a while. But, after enough time passes, I start to get the itch to tackle something new. Luckily our new house gave us a lot of opportunity for that. To begin with, the entire thing needed to be painted which I kind of recapped a bit back after we bought the place. See
this
post for some photos of that. That was the semi-cheap project, since paint is one of the most inexpensive things you can do to change the way a house looks. And I like to paint, so it was a win all the way around. So after we painted we took to arranging furniture and decorating, which doesn't sound like a project but it really can be. Figuring out what you want to do with a place isn't as easy as they make it seem on
HGTV
. And our house still isn't exactly catalog style awesome. By that I mean it actually looks lived in. But, the decorating portion was fun. I think one of my favorite decorating projects was beaching up our guest bath.
I walked past that room for days just staring in and thinking about how much I liked it. And it made me want to give our bathroom some personality too, but since I haven't decided what kind of personality I want it to have yet, it remains pretty untouched.
So we finished up that project around the time I discovered
http://www.ana-white.com/
where you can download fairly simple furniture plans you can build yourself that look pretty close to pieces you can buy in high end stores like Pottery Barn. Awesome. So, when Jason lamented that he needed a bookcase for his office, we built him one. And it turned out pretty well. In fact, so well that I kind of got bitten by this wood working bug that inspired me to want to build a lot of things. So, I decided that I was going to build toy boxes for my niece and nephew for Christmas. This was one of those best laid plans that oft go awry since I didn't take into account several factors like
umm
...losing my job, or almost immediately getting a new job after I had already taken a retail job which meant I had two jobs and therefore almost no time to work on the toy boxes and oh yes, it was a week before Christmas. Brilliant. I also didn't take into account that my saw was going to suck balls and freeze up mid-cut on most of the lumber, thus causing me to have choppy and uneven cuts. Thanks a lot saw! But, Jason came to the rescue because he was recently rendered unemployed and he did the bulk of the work on them while I was at work and they turned out pretty awesome despite some flaws and setbacks. We learned that there are few mistakes that can't be covered with enough wood putty and paint, so in the end we had these to take with us on Christmas Morning.
I was pretty happy with them. But that was kind of the last project on my list. So now I'm sitting here thinking that I might want to tackle another project, but I'm not sure what. I mean, there are several on my list but a lot of them are cost prohibitive right now due to the whole job situation, and some are outdoor projects that won't really work in the middle of January. I want to build a deck on the back of our house, for example, but that's both weather AND cost prohibitive right now. I want to do some more landscaping too, which won't work in the winter. I have been mulling over replacing the carpet in the basement with something else, but that could get pretty expensive pretty fast depending on what we replace it with. I keep leaning toward laminate floors, but I don't want really crummy ones that are going to damage easily. So that might be a project for later as well. Jason wants to paint the "water closet", i.e. toilet room in our master bath which is a pretty quick fix since we have the white paint already as well as painting our closets on the first floor because they still smell musty like the house did when we moved in. That "not lived in" smell lingers. And again, that's easy because we have the stuff we need to do it. So why not just "git 'er done"? Mostly because I hate painting white. It's boring. I want something fun. For about 8 months now I've been toying with repainting our bedroom. I find the dark brown and blue color scheme a bit too dark for my liking, and I'm having an impossible time finding curtains that will fit with either color. I saw this photo posted on Young House Love back in May...
...and immediately went "I LOVE THAT" because for some reason blue and green make me happy. And we already have an apple green duvet in our bedroom (I'm not a huge fan of prints) that was out of place with the dark walls. I like this brighter blue, and I love the dark wood furniture in contrast to the brightness of the rest of the room. We don't have dark furniture at the moment, but it's on that goal list of stuff we want to eventually buy. I've had my eye on
this
bed for years. But I find myself wondering if I could paint the room anyway and just coordinate it with our white furniture for now (because white goes with everything right?) and then later pull in the dark woods for a more stark contrast. And I want to marry those green curtains. I want them.
Yesssssss
. And, since our bathroom is currently the same color as our bedroom, I would have to paint it as well, which could solve our problem of giving our master bath some personality. I to coordinate with the blue/green in the master bedroom, I thought about painting the bathroom a more subtle green (but not minty green because Jason HATES minty green) like this, again stolen from Young House Love.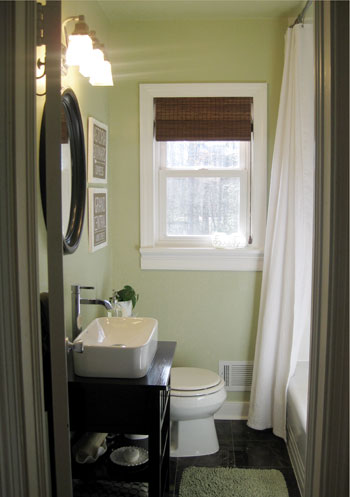 I'm not generally a huge fan of their style because it's a bit too safe for my tastes, but I read the blog because I love a good project and this green in their bathroom was pretty nice. Plus, I love the dark wood from the previous inspiration picture so I wanted to carry it into our bathroom. And this pairing they put together worked pretty well. It was kind of what I had been
picturing
in my head, so this wasn't a bad inspiration picture to explain where my thoughts are going. So, in addition to the pale green paint and dark wood, I have this thing for Cherry Blossoms lately, so I have been trying to think of ways to incorporate that into the batroom for a more spa-like feeling, which you kind of get in our beached up bathroom now that it's actually finished and stuff. So, I have been toying with artwork we could use, or ways to sort of incorporate that into the room. I was thinking something like
this
, only with a more beige or green background. Or even black on white. So that's where my brain is going at the moment. And I'm thinking that since it would be the cost of two gallons of paint to get a jump start on this, I kind of want to do it. But, who knows, tomorrow I might wake up and completely change my mind and realize I'm still sick of projects. But probably not. I'll keep you posted.